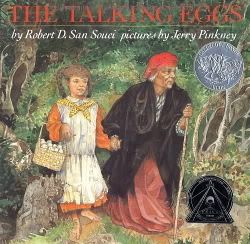 Author:
Robert D. San Souci
Illustrator:
Jerry Pinkney
Publisher:
Dial Books for Young Readers
Publication Date:
1989
Awards:
Caldecott Honor, Coretta Scott King Honor
Genre:
Folklore
Audience:
Gr. K-3
Overview:
A Southern folktale about a little girl named Blanche and how she befriends and old woman who takes her to her magical home. Blanche is then able to gain amazing riches and escape from her evil mother and sister with the old women's help.
Activity:
Students can invent their own magical being. Then they can draw a picture and describe it in a few sentences. (Example from book: Two headed cow with horns like corkscrews)
Reviewer's Name:
Natalie Eder