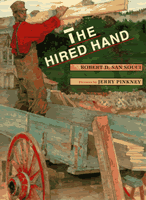 Author/Illustrator:
Robert D. San Souci/Jerry Pinkney
Publisher:
Dial Books
Publication Date:
1997
Genre:
Folktale
Audience:
Gr. K-4
Awards:
1997 New York Times Best Illustrated Books list

Overview:
A story of a young boy who works at his father's sawmill. He is lazy and always tries to get out of doing any work, until one day a mysterious man teaches him a lesson that will change his life forever. This book emphasizes the importance of hard work and honesty.
Activity:
Read story with children and then allow them to create their own magical spell. Ask why they chose this spell and who they would use it on if it were possible.
Reviewer's Name:
Mandi Kingeter