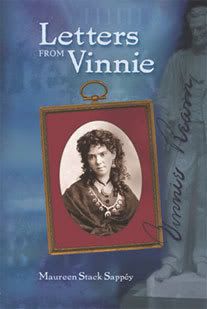 Author:
Maureen Stack Sappey
Publisher:
Calkins Creek
Publication Date:
1999
Genre:
YA Historical Fiction
Audience:
Gr. 4+
Awards:
NCSS-CBC Notable Social Studies Trade Books for Young People; National League of American Pen Women; New York Public Library – Books for the Teen Age
Overview:
Vinnie Ream accomplished something few women of her time ever even imagined. In this fictionalized account of Ream's life, the author engages readers in the story of this young woman who, at 18 years old, began sculpting the statue of Lincoln that stands today in the US Capitol. Through beautifully crafted letters to Vinnie's friend, Regina, this book reflects feminism during the Civil War time period.
Activity:
2007 marks the 150th birthday of Vinnie Ream, providing a wonderful opportunity to find out about this young woman's intellectual curiosity, determination, compassion. Students can write their own histories in the style of Vinnie's letters, and learn more about the sculpture of President Lincoln.
Reviewer's Name:
Deb Marciano