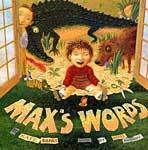 Author/Illustrator:
Kate Banks. Illus. Boris Kulikov
Publisher:
Frances Foster Books. Imprint of Farrar, Straus and Giroux.
Publication Date:
2006
Genre:
Picture Book - fiction
Audience:
Gr. K-5
Overview:
Max wants a collection of his own, because his brothers won't share theirs. He discovers that putting his items in a certain order makes his collection more valuable than those of his brothers. When they realize the importance of Max's collection, they want to be part of it, too
Activity:
Get together scissors, old magazines, and newspapers. Add glue stix and some time to imagine. This is a wonderful story about a young child's discovery of the power of words and will inspire readers to begin writing using their own word collections.

Reviewer's Name:
Deb Marciano