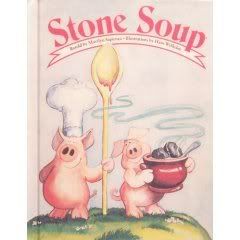 Author/Illustrator:
Marilyn Sapienza/Hans Wilhelm
Publisher:
Newfield Publications
Publication Date:
1986
Awards:
Weekly Reader Book
Genre:
Folktale
Audience:
Gr. 2-5
Overview:
When two hungry travelers come to a village no one will share their food with them. The travelers entice the people of the town with idea of stone soup. They begin by just boiling stones in the water, but they explain how much the soup would taste with various ingredients. The townspeople come together to each offer the soup an ingredient making stone soup the best soup they ever tasted.
Activity:
Read Stone Soup during a unit on nutrition. Students can each bring the different ingredients and as a class we can make stone soup for everyone to share.
Reviewer's Name:
Nikki Palmer