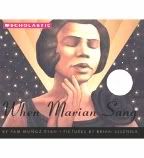 Author:
Pam Muñoz Ryan
Publisher:
Scholastic
Publication Date:
2002
Age:
Gr. 3+
Genre:
Biography
Awards:
Robert F. Sibert Honor, Caldecott
Overview:
Even as a child, Marian Anderson knew she wanted to spend her life singing. She had such a beautiful gift that members of her church encouraged her and raised money for her to take voice lessons with a prestigious voice coach. Facing racism in the U.S. Marian moved to Europe and became a legend overseas. When she finally returned to the United States, Marian was welcomed by most with open arms and invited to sing at the Lincoln Memorial. She also had a chance to sing with the Metropolitan Opera, her lifelong dream.
Activity:
Marian's neighborhood and church were a big help in her success. Have the students write about one of their goals and how others can help them achieve it.

Reviewers Name:
Sarah Bademan