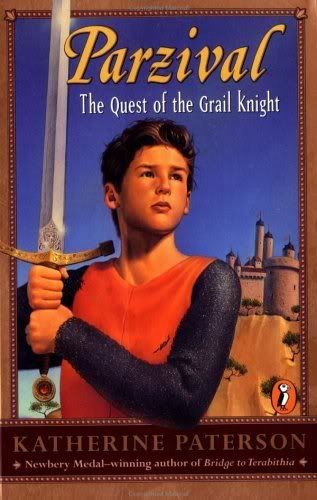 Author:
Katherine Paterson
Publisher:
Puffin
Publication Date:
2000
Genre:
Folklore
Audience:
Gr. 4+
Overview:
Parzival
is the story of a young prince who did not know he was a prince. He sets out, innocent and naïve, to become a knight in King Arthur's court and undergoes many of the usual trials and tribulations along the way.
At one point he is brought to the castle of a wounded king and witnesses the splendors of the Holy Grail; but, having been taught not to ask questions, he fails to ask the one that could heal the dying king, and leaves the castle in shame. Once Parzival realizes what he has done, he knows he must go back — but the castle is not so easy to find the second time around.
One of the many stories revolving around Britain's legendary King Arthur and his Knights of the Round Table,
Parzival
was originally penned by a medieval German poet named Wolfram von Eschenbach. Katherine Paterson's retelling is a quick and easy read, and an excellent introduction to British mythology for kids and adults alike.
Reviewer's Name:
Preety Sidhu