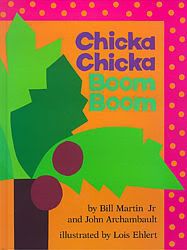 Author/Illustrator:
Bill Martin Jr., John Archambault, Illustrated by Lois Ehlert
Publisher:
Simon & Schuster Children's Publishing
Publication Date:
1989
Awards:
ALA Notable Children's Books, Biennale Of Illustrations Bratislava, Boston Globe/Horn Book Award Honor Book, IRA/CBC Children's Choices, Kentucky Bluegrass Award, Parents' Choice Award
Genre:
Fiction Picture Book
Audience:
Gr. Pre-K+
Overview:
This delightful sing-songy funny adventure that the letters go on together as they all try to climb the coconut tree, will help children learn the alphabet in a fun and clever way. The rhyming verses will encourage readers to join in, while the bold and bright illustrations will make this story a favorite. This beloved classic gives the letters a personality and helps them become dear friends to children everywhere.
Activity:
After reading Chicka Chicka Boom Boom children will be introduced to letters and will enjoy going on a "letter hunt" in a print-rich environment such as a classroom, store or by using street signs. Name a letter and see how many times your students can find the letter and in how different words. This is a great time to begin to introduce lowercase and capital letters to the children.

Reviewer's Name:
Sarah DeVan