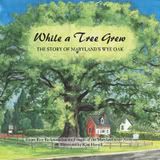 Author/Illustrator:
Elaine Rice Bachmann / Kim Harrell
Publisher:
Tidewater Publishing
Publication Date:
2006
Genre:
Fiction Picture Book
Audience:
 K-3
Overview:
Follow the journey of a sapling oak tree and its 460-year history. Maryland's rich history comes to life through the exquisite artwork and historical events that our Eastern Shore Wye Oak tree has gazed upon.
Activity:
Read story aloud and discuss sequencing: beginning, middle, end; small, medium, large. Have the students draw a picture of a sapling tree, a regular size tree, and a large tree. Label the drawings with good descriptive words telling something about the tree (bright red leaves, covered in fluffy white snow, growing big and strong). This is also can be used in a history lesson on Maryland.
Reviewer's Name:
Kimberly Freeman