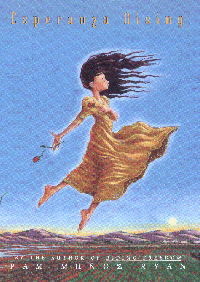 Author/ Illustrator:
Pam Munoz
Publisher:
Scholastic Inc.
Publication Date:
2000
Genre:
Young Adult Novel
Awards:
Jane Addams Peace Award, ALA Best Books for Young Adults
Pura Belpre Award, Smithsonian Notable Books for Children 2000, Publishers Weekly Best Book of the Year 2000
Audience:
Gr. 4+
Overview:
This is a tale of a young girl who lived a fairy-tale life of wealth and grandeur in Mexico until her father's death. At the age of thirteen, Esperanza and her family are lead across the boarders to America to escape her Uncle's evil attempts to take over their land. This is a story of despair, strength, and triumph.
Activity:
Discuss how Esperanza has changed throughout the story: work ethics, determination, and friendships. Have the students write how they might end the story, including include details about what the future may be for the characters because of these changes.

Reviewer's Name:
Kimberly Freeman