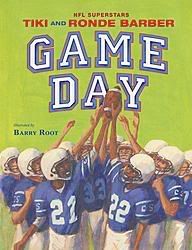 Author/Illustrator:
Tiki and Ronde Barber/Barry Root
Publisher:
Simon & Schuster, Inc.
Publication Date:
2005
Genre:
Nonfiction
Audience:
Gr. 3+
Awards:
Bank Street Best Books of the Year; IRA/CBC Children's Choices; Nick Jr. Family Magazine Best Books of the Year; Oppenheim Toy Portfolio Gold Award; Junior Library Guild Selection
Overview:
Twin brothers, Tiki and Ronde Barber, now both NFL players, retell a story of their childhood. Tiki plays running back and Ronde is Tiki's blocker. Tiki is always recognized for his incredible number of touchdowns, while Ronde is never given credit for the blocks that allow Tiki to score. The story emphasizes the importance of teamwork.
Activity:
Good book to use at the beginning of the year. Read book to students and note how important it is to work together in order to keep the classroom running efficiently. Also point out how it can hurt the dynamic of the entire "team" if one person is not an active participant.

Reviewer's Name:
Mandi Kingeter