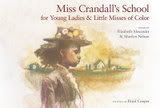 Author/Illustrator:
Elizabeth Alexander & Marilyn Nelson (illus) Floyd Cooper
Publisher:
Word Song
Publication Date:
2007
Genre:
Poetry, Historical Fiction
Audience:
Gr. 4+
Overview:
When Miss Crandall was invited to start a school, in 1831 in Canterbury, CT. her students were wealthy white girls. The following year, the school's African American housekeeper took classes, joined by her sister-in-law. The white townspeople were in an uproar, Miss Crandall and her students were ostracized, and she was tried for her "crimes" of teaching non-white students. The authors have told the stories of students and townspeople, in sonnets accompanied by soft, expressive watercolors by Floyd Cooper. The story is gripping, as humans turn against one another in this story of the town's battle of racism.
Activity:
Since the sonnets tell individual stories within the larger one, ask readers to listen carefully to the voices in each poem. Discuss how sharing the background information in the beginning of the book, helps to situate each story. Provide opportunity for readers to try their own sonnet, reflecting on an emotional event in their own lives.
Can be used in conjunction with
The Forbidden Schoolhouse: The True and Dramatic Story of Prudence Crandall and Her Students
(also reviewed on BLOG BLOG).
Reviewer's Name:
Deb Marciano