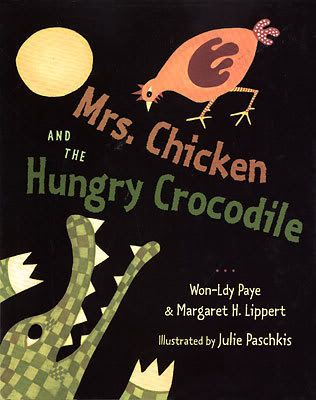 Author/Illustrator:
by Won-Ldy Paye and Margaret H. Lippert, Illustrated by Julie Paschkis
Publisher:
Henry Holt
Publication Date:
2003
Awards:
2005 Anne Izard Storytellers' Choice Award, Nominated for the 2005 Washington Children's Choice Picture Book Award, Charlotte Zolotow 2004 Honor Book for Outstanding Writing in Picture Books, Notable Social Studies Trade Book for Young People for 2004, 2003 Chapman Award, for Best Classroom Read-Alouds, Starred review in Publishers Weekly
Genre:
African Folktale – picture book
Audience:
Gr. K -3
Overview:
This is a great example of an African trickster tale geared for younger children. A chicken outsmarts a crocodile into not eating her by switching the eggs in the crocodile's nest with her own. When the eggs that the chicken was sitting on hatched, they were baby crocodiles and when the eggs that the crocodile was sitting on hatched, they were baby chicks. The crocodile then thought the animals were sisters and she was glad that she did not eat Mrs. Chicken. The two animals then decided to switch the babies so they had their real children because that is what they both wanted to do and they went on to live happily ever after.
Activity:
After reading this book, read the story of Brer Rabbit and discuss the similarities between the two trickster tales. Children can try to write their own trickster tales, too.

Reviewer's Name:
Sarah DeVan