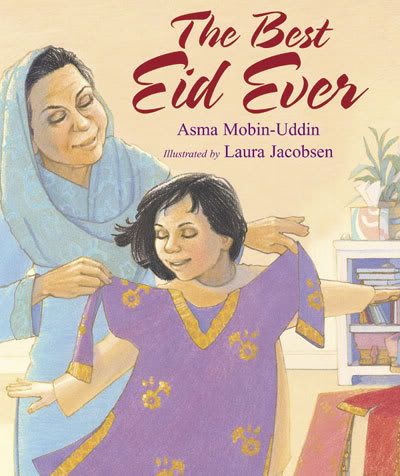 Author/Illustrator:
Asma Mobin-Uddin/Laura Jacobsen
Publisher:
Boyds Mills Press
Publication Date:
2007
Genre:
Picture Book
Audience:
Gr. K-3
Overview:
While celebrating Eid, the biggest Muslim holiday, a young girl learns a special lesson of sharing, compassion, and the true meaning of celebrations. This realistic story provides opportunity for readers to gain an understanding of Pakastani customs through a universal spirit of giving.

Activity:
After discussing this story, readers can share their own stories of helping others who are less fortunate. Finding a way to help others within your own school community might be a way to express simple generosity.
Reviewer's Name:
Deb Marciano