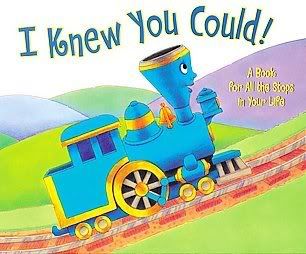 Author/Illustrator:
Craig Dorfman/Cristina Ong
Publisher:
Platt & Munk Publishers
Publication Date:
2003
Genre:
Fiction
Audience:
Gr. Pre-K+
Overview:
I Knew You Could!: A Book for All the Stops in Your Life stars the well renowned 'little blue engine that could' and is a great book to encourage its readers to find the right track for their lives. The book encourages youngsters who may become discouraged during life, not to forget to say, "I think I can."
Activity:
Have the students write a journal entry on goals that they can make for themselves to not only stay on the right track in life, but to help build confidence in tackling what life has in store.
Reviewer's Name:
Staci Banks