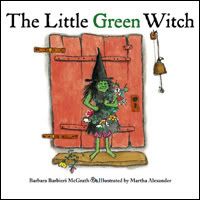 Author/Illustrator:
Barbara Barbieri McGrath/Martha Alexander
Publisher:
Charlesbridge
Publication Date:
2006
Genre:
Fiction Picture Book
Audience:
Gr. Pre-K+
Overview:
The Little Green Witch is an entertaining story about a green witch who finds some pumpkin seeds, but needs help tending to them them. The green witch turns to her friends for help, but they all seem to have better things to do. When the day comes to whip up some terrible pumpkin pie, her friends are more than willing to help gobble it up. The readers will discover that the witch has a different plan.
Activity:
Have the class create a timeline that includes pictures and text to describe the process it takes for a pumpkin seed to be made into a yummy pumpkin pie.

Reviewer's Name:
Staci Banks